Spare parts and exchange units
Longer lifetime
We supply individual spare parts as well as exchange units for our pumps.
In Finland, we provide our customers with a unique Kolmeks exchange unit service that maximises the pump's life cycle. Our goal is to invest in the recyclability and efficient utilisation of the materials.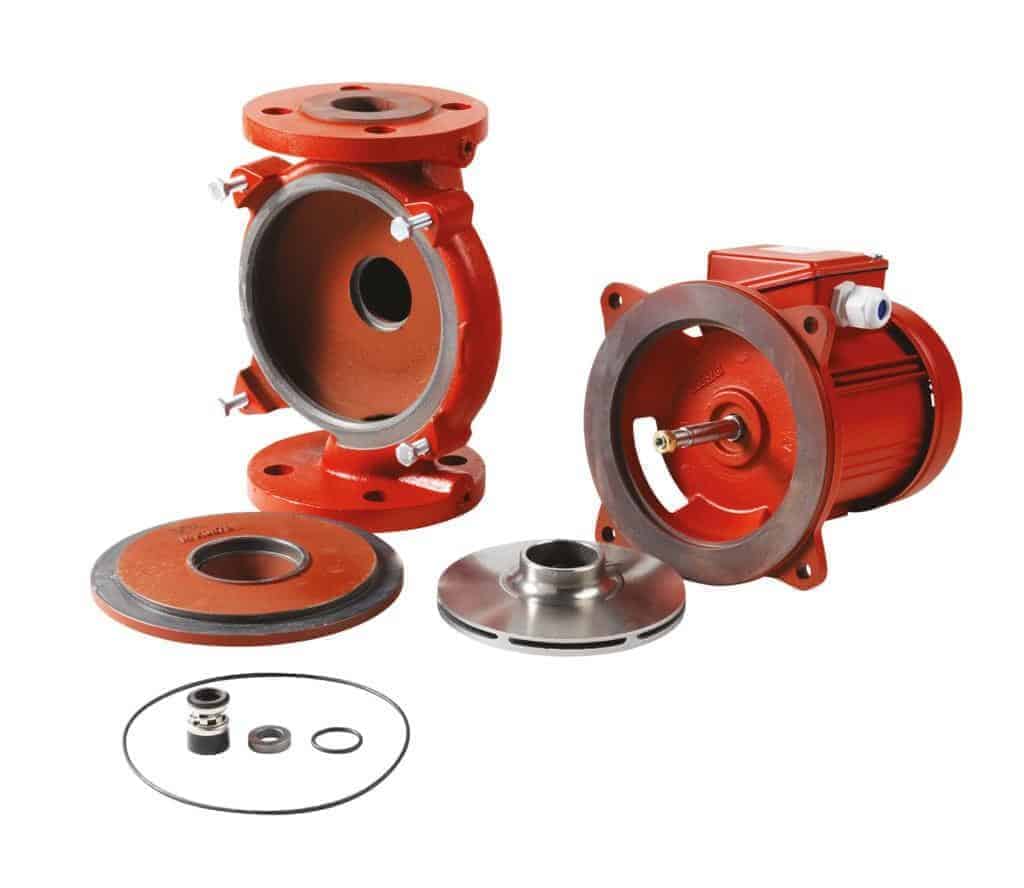 Our exchange unit is basically a new complete Kolmeks pump without housing. The exchange unit includes a motor, sealing flange, impeller and seals. When an old pump fails, you can easily and quickly install the exchange motor unit to the original pump housing without plumbing work. This product has a 2-year warranty.
The refurbished exchange unit is made up of 95% recycled parts. Wearing parts such as the shaft seal and bearings are new. It is a sustainable solution with a low carbon footprint. Exchange unit service means we deliver a refurbished exchange motor unit and the defective pump is sent to us for recycling. This service is available in Finland only. The refurbished exchange unit also has a 2-year guarantee.
Spare parts: It is easy to get spare parts for Kolmeks pumps. You can find spare parts for almost all pumps ever manufactured by Kolmeks. Those pumps, which no longer have spare parts available, can be replaced with modern and energy-efficient pumps. If needed, the pumps can be supplied with fitting parts to avoid plumbing.
---
Pick-up points
Kolmeks offices and companies selling original Kolmeks spare parts.
Kolmeks Maintenance, Turenki
Taimistotie 2, 14200 Turenki
Tel. 020 7521 31

Open Mon – Fri: 7.00 – 15.30
www.kolmeks.com
Kolmeks Maintenance, Vantaa
Niittyvillankuja 4, 01510 Vantaa
Tel. 020 7521 218

Open Mon – Fri: 7.00 – 15.30
www.kolmeks.com
Forssan LVI-Kulma Oy
Hämeentie 39 B, 30100 Forssa
Tel. 010 5818 200

www.lvi-kulma.fi
LVIS-Projektit Oy Imatra
Muovikuja 2, 55120 Imatra
Tel. 05 – 684 5500
www.lvis-projektit.fi
Näsin Vesijohtoliike Oy
Tampere
Tel. 03 – 380 5400
www.nasinvesijohtoliike.fi
Kolmosputki Oy
Valkeakoski
Tel. 03 – 548 5500
www.kolmosputki.fi
Flowplus Oy
Tel. 020 741 4720
Kaarantie 16 36100 Seinäjoki
Keskuojankatu 28 33900 Tampere
Silmukkatie 15 65100 Vaasa
www.flowplus.fi
JJR-Konepalvelu Oy
Turku
Tel. 02 – 238 8567
---